YinTian Diamond Saw Blades for Granite Promote the Sales of Stone Factory in India
Categories: Yintian News
Stars: 3Stars
Visit:

-
Release time: 2014-09-18 17:31:00
The Hanks stones factory which is located in the north of India has been always one of the most large-scaled enterprises in domestic market, and there has been a good reputation for many years both in India and the global market. it has always remained the advanced sales values at home for 10 more years, but in recent two years, the sales of the granite stones have been going down continuously. Once by chance, Hanks found the 350mm diamond saw blade for granite manufactured by YinTian company on internet, he felt good and ordered several pieces of diamond saw blade for testing. To his surprise, just one testing order, YinTian diamond saw blades for granite are just to his taste. Every character of the YinTian diamond saw blade was completely beyond his expectation. Especially, the very long working life made Hanks amazed. Shortly after, he ordered 150 pieces of this kind of the diamond saw blades again.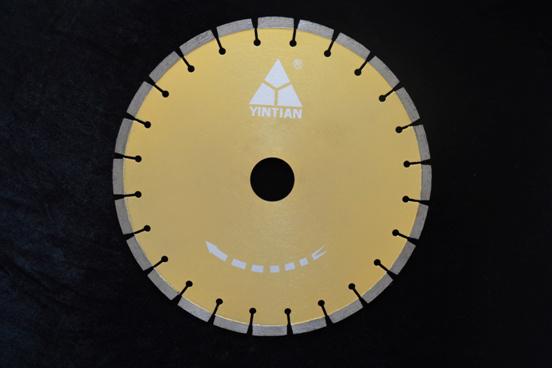 Why Hanks was fond of the 350mm diamond saw blade for granite like made by YinTian? It owes to the exclusive balance point formula created by the YinTian company through 18 hard years. When applying the diamond saw blade with the very formula, there are much advantages with high cutting speed, high efficiency, and long working life, etc, especially with the perfect cutting effect that will influence the appearance of the stones processed greatly, as well as the sales amount. The cutting effect is one of the most important factors in developing and researching, that is why the YinTian company has a well reputation in the market.
From then on, the sales of granite stones increased more and more in Hank stone factory, and Hanks loved the YinTian 350mm diamond saw blade for granite very much. He established a cooperation relationship with the YinTian company for a long term.
YinTian have specialized in manufacturing diamond tools for 17 years, hoping supply best diamond tools to every customers. If you are interested in our products or would like to be business partner with us, do not hesitate to contact our online customer service.
E-mail: yt@bestdiamondsawblade.com
Skype: ytdiamondtools
Tel: +8618818219332