YinTian Diamond Saw Blade Makes Convenience for You
Categories: Yintian News
Stars: 3Stars
Visit:

-
Release time: 2014-08-06 15:46:00
The red stone from Sichuan, China is commonly considered to be one kind of much harder stone, Mr Wu was ever worried about it deeply, why there was no company to help me? Though the diamond saw blade being used could cut the stone, the effect was not so well that the edge or the corner of the stone processed always got damaged.
Mr Wu is managing a large-scaled stone materials company whose main product is the red stones, Mr Wu wants to find one kind of diamond saw blade which is of higher hardness and more economical in order to cut the stone like it.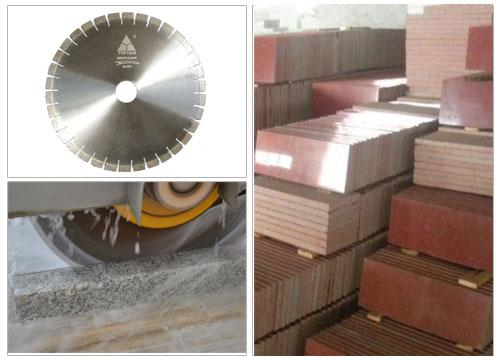 After selecting various products, he finds us via network at last. As one of the biggest company for producing diamond saw blade, there are all kinds of the saw blade for cutting various stones of different hardness. For the higher demand to the sharpness of the red stone that Mr Wu needs to cut, our market consultants recommend him of the Φ350mm short-teethed diamond saw blade of the sharp king series for granite, this saw blade is sharpest for cutting the stones of higher hardness more quickly and more efficiently. According to the feedback of the former customers, the working life can reach as much as 200 square meter when cutting the red stone, and the edge or the corner of the diamond saw blade will not be damaged when processing. For us, there is no stone that is hard to cut.
Our company specialized in manufacturing the diamond saw blade for cutting all kinds of stone, and the yearly selling is on the top in China. If you are interested in our company, you are welcome to contact us.
E-mail: yt@bestdiamondsawblade.com
Skype: ytdiamondtools
Tel: +8618818219332